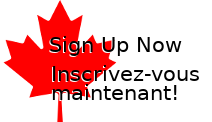 Your browser must be set to accept cookies to access the admin area.

View Meetings
30th Annual Meeting Of The Canadian Biomaterials Society
Wednesday, May 29th to Monday, July 1st, 2013 in University Of Ottawa
University Of Ottawa - May 29 - June 1, 2013
The CBS 2013 meeting will cover fundamental aspects of biomaterials research and also extend the scope to emerging clinical issues and challenges.
Specific topics will include:
Orthopaedic, dental, cardiovascular, ophthalmic biomaterials, skin substitutes,blood substitutes and other medical applications
Tissue engineering and regenerative medicine
Biosensors, bioMEMs and biomaterials for clinical diagnostics
Emerging challenges and artificial joints
Biomaterials product development, ethics and regulations
Highlights of the meeting will include:
Plenary lectures/Keynote addresses by world-leading scientists and clinicians, including:
Kristi Anseth, Ph.D., Distinguished Professor and Tisone Professor of Chemical and Biological Engineering, Howards Hughes Medical Institute Investigator, Professor of Surgery, University of Colorado Boulder, USA. Sponsored by NSERC CREATE IDEM, McMaster University, Canada
John Brash, Ph.D., Professor, Department of Chemical Engineering, McMaster University, Canada
Lyndon Jones, Ph.D., Professor, School of Optometry and Vision Science; cross-appointed with Biology, Chemistry, Chemical Engineering, and Physics, University of Waterloo
Tony Mikos, Ph.D., Louis Calder Professor, Department of Bioengineering, Rice University, USA
Claude Rieker, Ph.D., Director Scientific Affairs, Zimmer GmbH, Winterthur, Switzerland
Marc Ruel, MD, MPH, FRCSC, FAHA, Cardiac Surgeon & Cardiac Surgery Research Chair; Chief of the Division of Cardiac Surgery; University of Ottawa Heart Institute, Ottawa, Canada
William R. Wagner, Ph.D., Director, McGowan Institute for Regenerative Medicine, Professor of Surgery, Bioengineering & Chemical Engineering, University of Pittsburgh, USA

Faculty and student presentations and posters
The 2013 CBS Annual Meeting is a must-attend event for biomedical industry leaders, researchers, students and clinicians!
Please join us for the BBQ Welcome Reception on Wednesday night at 6:30pm! Registration will be open at 5pm
CBS 2013 Presentation Guidelines
When preparing your poster, podium or short talk presentation, please refer to the following documents: