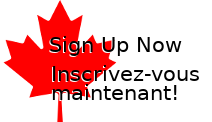 Your browser must be set to accept cookies to access the admin area.

View Meetings
31st Annual Meeting of the Canadian Biomaterials Society
Thursday, June 5th to Saturday, June 7th, 2014 in Halifax, Nova Scotia

Plan to join us in Halifax from June 4th to June 7th for the 31st Annual Meeting of the Canadian Biomaterials Society. %u201CBridging the Gap%u201D %u2013 From Discovery to Innovation will provide a forum for sharing the latest findings in biomaterials research, device development and novel clinical applications. There will be opportunities for both formal and informal interactions amongst trainees, professors, clinicians and industrial partners from across Canada. Take advantage of our new small group Lunch & Learn sessions, or make new connections at the speed-networking event. The scientific program will highlight notable international experts spanning the biomaterials spectrum and related fields, with a focus on realizing evidence-based solutions to biomedical problems. The program for the conference has now been completed, you can find it here.
And don%u2019t miss out on the CBS banquet, taking place at historic Pier 21, the gateway to Canada. While here, enjoy our famous East Coast hospitality, and make sure you leave some time to explore our treasures!
Mark J Filiaggi
Dalhousie University
Conference Chair
CBS 2014 Presentation Guidelines
When preparing your poster, podium or short talk presentation, please refer to the following documents:
Registration
Registation is NOW OPEN. To qualify for significant conference discounts:
Register early - All registrants before May 17, 2014 qualify for a $50 discount on their registration fee, regardless of registration category
Be a CBS member - it's that easy!

If you are already a CBS member, simply log into the website (using the login box on the left of the webpage) to qualify for member pricing on registration. Reminder: your login is the e-mail address you used to sign up for your membership. If you forgot your password, click on the password reminder link below the login interface and it will be e-mailed to you.

If you are not yet a CBS member, it's NOT TOO LATE - join today! Your conference registration savings exceed the cost of your CBS membership, so don't miss your chance to both save money and enjoy great CBS member benefits throughout the year. Upon registering, you will receive your login/password information by e-mail and can use it immediately to log into the website and enjoy member registration savings.
Registration includes: all scientific sessions; Lunch & Learn sessions (attendance limited %u2013 see below); the welcome reception on June 4th; lunches; the evening poster reception (June 6th); nutrition breaks; and the conference banquet at Pier 21. Note that additional tickets to the banquet for an accompanying guest will be available for purchase when you register.
CBS students, postdoctoral fellows and residents may also register for the %u201CWorkshop on Regulatory Issues in Tissue Engineering & Medicine%u201D being held as part of the NSERC CREATE Program in Regenerative Medicine (NCPRM). Please see the following link for more information. Note that spots for up to 20 CBS (non-NCPRM) trainees are available; a registration fee of $40 must be paid on-site.
**NEW** Lunch & Learn
This year we are hosting four Lunch & Learn sessions to enrich your experience at the meeting. These sessions are intended to provide some focused but informal discussion in a small group setting on topics of relevance to the biomaterials community, These sessions are free to conference registrants; however, attendance will be capped at 12 %u2013 so register early to avoid disappointment!
EARLY BIRD RATES (Before May 17, 2014)

| | | |
| --- | --- | --- |
| Registration Category | CBS Member | Non-Member |
| Student/Post-Doc | $250 | $350 |
| Faculty/Clinician | $300 | $400 |
| Corporate | $350 | $500 |
REGULAR RATES (After May 16, 2013)

| | | |
| --- | --- | --- |
| Registration Category | CBS Member | Non-Member |
| Student/Post-Doc | $300 | $400 |
| Faculty/Clinician | $350 | $450 |
| Corporate | $400 | $550 |