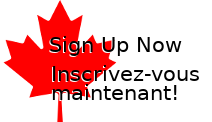 Your browser must be set to accept cookies to access the admin area.

Welcome To The Canadian Biomaterials Society!

The Canadian Biomaterials Society (CBS) is an incorporated, not-for-profit organization dedicated to the development of biomaterials science, technology, and education in Canadian universities, industry, and government.
CBS Annual Meeting

Looking forward to meeting you in Quebec City for the 35th Annual Meeting of the Canadian Biomaterials Society, May 21-24, 2019!

We invite you to submit your abstract before February 22, 2019.


Webinars

This month's webinar: Therapeutic Bio-conjugate Design
Speaker: Marc Gauthier (Institut National de la Recherche Scientifique)
Learn more from our webinar archive (login req'd)

Society News
BioMat Connect 2017 (March 20): Alberta Student Ch (0 comments)
2017-03-08 11:12:42 by Manoj Parmar
Hello everyone!We are pleased to announce our biggest event of this academic year: BioMat Connect 2017 - Biotech Careers Mixer.Why attend BioMat Connect?Connect with researchers and professionals of the health, biotech and biomaterials community...
Kingston Student Chapter Seminar (0 comments)
2017-03-07 07:59:41 by Laura McKiel
We are excited to announce our first seminar speaker, Dr. Laura Wells! She will be discussing her research in opthalmic drug delivery and the associated challenges. The seminar will take place Wednesday March 15, 2017 at 1:30 pm in the Charles Sorbie Conference Room of the HMRC...
Quebec Student Chapter Seminar on March 6th (0 comments)
2017-02-28 06:59:39 by Caroline Loy
Quebec city student chapter is hosting a seminar of Prof. Yang Ke.
CBS-KSC Inaugural Event: March 1st @ 3:00 pm (0 comments)
2017-02-21 10:31:22 by Laura McKiel
We are very excited to invite you to the CBS-Kingston Student Chapter Inaugural Event!Following a short presentation of the CBS-KSC, Dr. Brian Amsden and Dr. Lindsay Fitzpatrick will give a unique presentation of their careers, their research goals, and their opinions of the next challenges in the field of biomaterials...
---
Total Results: 85
Last
|
Next
| Page:
1
2
3
4
5
6
7
8
9
10
11
12
13
14
15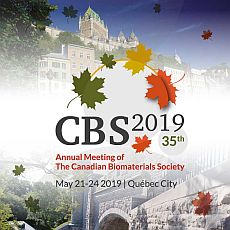 Biomaterial Highlight Of The Month
Concentrically Fused Multi Layered Tubular Cell Seeded Collagen Construct for Vascular Tissue Engineering

Diego Mantovani





Read More