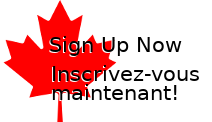 Your browser must be set to accept cookies to access the admin area.

Welcome To The Canadian Biomaterials Society!

The Canadian Biomaterials Society (CBS) is an incorporated, not-for-profit organization dedicated to the development of biomaterials science, technology, and education in Canadian universities, industry, and government.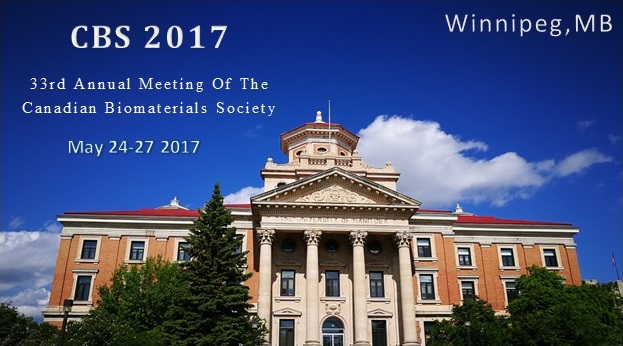 JOIN US AT THE 33rd ANNUAL MEETING OF THE CANADIAN BIOMATERIALS SOCIETY - May 24-27, 2017 in Winnipeg, MB
Join us in Winnipeg in May as the CBS Annual Meeting comes to Manitoba for the first time.
Find out more about the 2017 CBS meeting at the conference website.
See Full Technical Program and Program-at-a-Glance for CBS 2017.

To attend the conference, register today!
CBS Board of Directors Election Results (0 comments)
2016-06-24 07:38:50 by Todd Hoare
Congratulations to the following candidates who have been elected by CBS membership to serve on the CBS Board of Directors: President-Elect - Stephanie Willerth; Senior Board Members - Isabelle Catelas, Kathryn Grandfield, Tom Willett; Student Board Member - Ross Fitzsimmons...
2016 CBS Annual General Meeting at the WBC (0 comments)
2016-05-12 07:49:13 by Lauren Flynn
All Senior and Junior CBS members are encouraged to attend the 2016 CBS Annual General Meeting (AGM), which will be held at the WBC 2016 in Montreal on Thursday May 19 from 12:15 - 2:00 PM in Congress Room 516 AB...
Volunteers Needed for CBS Booth at the WBC 2016! (0 comments)
2016-04-13 06:26:11 by Lauren Flynn
Calling all CBS trainees - we need your help! The CBS will be hosting a joint CBS - Student Activities Booth in the Exhibition Hall at the WBC 2016. This is an excellent opportunity to showcase the strength and diversity of the CBS research community and interact with researchers from around the world...
CBS Spring 2016 Newsletter (0 comments)
2016-03-28 06:21:55 by Lauren Flynn
The Spring 2016 edition of the CBS Newsletter is now available, featuring recent CBS award winners, important CBS events at the upcoming WBC 2016, and local Chapter updates. Download the newsletter here...
---
Total Results: 75
Last
|
Next
| Page:
1
2
3
4
5
6
7
8
9
10
11
12
13
14
15
16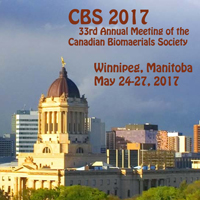 Biomaterial Highlight Of The Month
3D Hyaluronan Dual-Click Chemistry Hydrogels as Matrices for Breast Spheroid Formation


Alexander Baker




Read More